Babies and Children's Clinic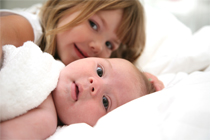 At Tarring Osteopaths, we appreciate fully that your child's wellbeing is of the utmost importance, and ensure we work together with you and your baby or child.
As with all our patients, treatment is tailored to each individual, using cranial osteopathy, which is very gentle, non-invasive technique, often used when treating young children and new born infants. With older children, some articulatory techniques may be appropriate.
Please note all children under 16 must be accompanied by an adult who can give legal consent for their treatment.
What to expect during your child's initial consultation:
Case History: We will take a detailed case history asking about the specific problem they need help with. We will also ask about the pregnancy and delivery, as well as the mother's health and previous pregnancy history.
Examination: We will then examine your child, using neurological and orthopaedic testing with similar techniques you may have seen your GP or paediatrician use. We will then observe posture, and carry out a gentle structural examination and cranial osteopathy examination to see which areas may be making your child uncomfortable.
Treatment: We will explain to you the findings of our examination and whether we think treatment is appropriate or not. If we feel treatment isn't suitable we will refer you immediately. We will explain how the history and your child's symptoms and examination findings link together, and how treatment may help. Osteopaths utilise a range of techniques including cranial techniques which are safe, gentle and non-manipulative. They are often used when treating young children and new born infants.
Outcome: Usually babies and children will respond quickly to treatment and feel better within 2-3 sessions, however if they have experienced symptoms for a longer period of time, then improvement is likely to take longer (as is normal with adult patients). In most cases children are relaxed and tired after treatment, however in some cases, babies and children maybe unsettled after treatment for 2-3 days afterwards. Please remember that osteopathy helps your child's body heal itself and so parents must have patience and realistic expectations.
"Tarring Osteopaths were extremely helpful and welcoming when I approached them regarding treatment for George (4 months old). The practice was small and friendly, the initial consultation extremely thorough and George was extremely happy when being treated. After a traumatic birth and proceeding feeding and physical issues and short course of cranial osteopathy made a huge improvement to George's well-being and our lives as parents. I really believe the treatment received has been beneficial to all of us and would recommend Tarring Osteopaths to any parent considering cranial osteopathy for their children"
Rachel, Mum of patient
"The team at Tarring Osteopaths have always made huge efforts to ensure that Jacob enjoys his time there, with a very child centred approach. This means he relaxes in their company and gets the full benefit of the treatment. Their professionalism, experience and clear communication give me great confidence in the treatments they give Jacob. After a bad fall off a slide leading to a broken arm, the team helped him recover. They have treated both my children since infancy after various bumps, scrapes and events and we have always seen huge benefits."
Gail, Mum of patient
"My son receives treatment (age 9) at present. This has been extremely beneficial in correcting body posture after normal childhood falls, relieving the pain. The care he gets is very kind and he is always made to feel relaxed and safe when they are treating him. I always feel happy and confident to refer friends to the practise."
Claire, Mum of patient
"Recommended by ballet teacher. Heather (14 years old) had quite a specialised "dance" problem and Aimee was able to improve the movement in her hips and also help with advice on stretches to improve "turn out". Heather responded well to Aimee and was happy to go for repeated treatments which could be uncomfortable, but she trusted Aimee and could feel the benefit which was very important. She was also able to encourage Heather with some exercises to do at home. She also put in a lot of work to research the best stretches etc to help. Have already recommended Aimee to other mums at dance school - who are also very pleased. Would not hesitate to return if we have any further problems."
Angela, Mum of patient
"Aimee is a very conscientious osteopath who is very friendly and professional. She worked with my 13 year old daughter in a very caring and skilled manner and made her feel totally at ease and very comfortable. Aimee listened intently and was able to use her skill and she provided effective treatment. I would not hesitate in highly recommending Aimee and Tarring Osteopaths."
Theresa, Mum of patient
"Tarring Osteopaths provided my daughter (age 15) with friendly, calming care and clear understandable instructions on her treatment needs and how that would happen. She had clear benefits to her condition from treatment one, onwards. We are delighted with the whole experience. Aimee is delightful and clearly and asset to the practice."."
Neil, Dad of patient